Get secure printouts that comply with the General Data Protection Regulation (GDPR) from PrinterGuys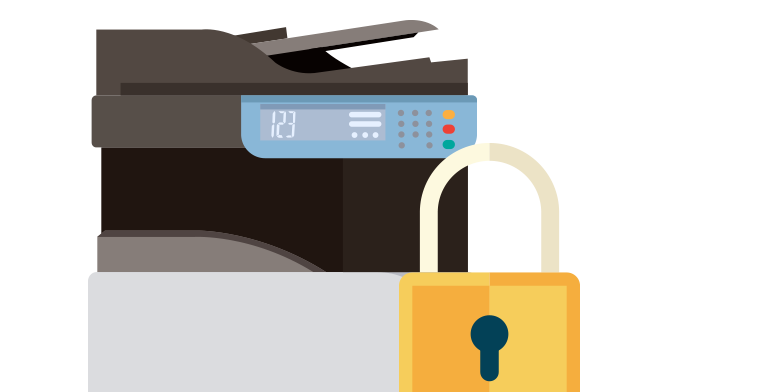 Get a First Class secure printing solution from PrinterGuys
All our copiers have an encrypted hard drive as standard, but there may also be a requirement that everyone who prints has to identify themselves before the printer can print the job. If you have sensitive personal data, there is also a requirement that nobody should be able to scan documents and transmit them externally.
If you need a flexible solution to increase security to the highest level, we can offer that you log on to the copier via your phone or an access card.
Our Medium and Large have this feature as an option.
The advantage is also that the user at the copier has their own desktop with shortcuts for e-mail and other configurations – just as you know it from your computer.
Secure printing with user identification:
One-off costs:
The basic setup of secure printing:
DKK 2990
Setting up copiers:
DKK 490/machine
New server for secure printing solution:
DKK 0
User licence:
DKK 0
Mileage if we have to work on the copier:
from DKK 475
Monthly costs:
Licence per copier:
DKK 149
Card reader:
DKK 129
User licence:
DKK 0
The fine print: It requires Samsung copiers to be connected to use this secure print solution. You can easily have copiers from other manufacturers on your network, but you will not be able to use them for this solution. One reason is that our copiers DO NOT send your data out into the world, but it is processed encrypted between copiers internally. It will likely be good business for you to replace old copiers since the power consumption of the new ones is 1.5W on standby. A 5-year-old desktop printer often has a standby power consumption of over 50W, while a 7-year-old copier can have a standby power of 100W, i.e. DKK 1700 per year.
No unforeseen costs.
No surprises.
Here is a complete overview:
| | |
| --- | --- |
| You can print as much as you want with the secure printing solution. | Yes! |
| Is there a minimum contract term on the copiers, because I have FollowMe? | No! |
| Annual index price adjustment of typically 5% | Not with us! |
We offer the following optional extras:
| | |
| --- | --- |
| Customisations on the FollowMe solution | DKK 980/hour |