PaperCut Follow-Me solutions from PrinterGuys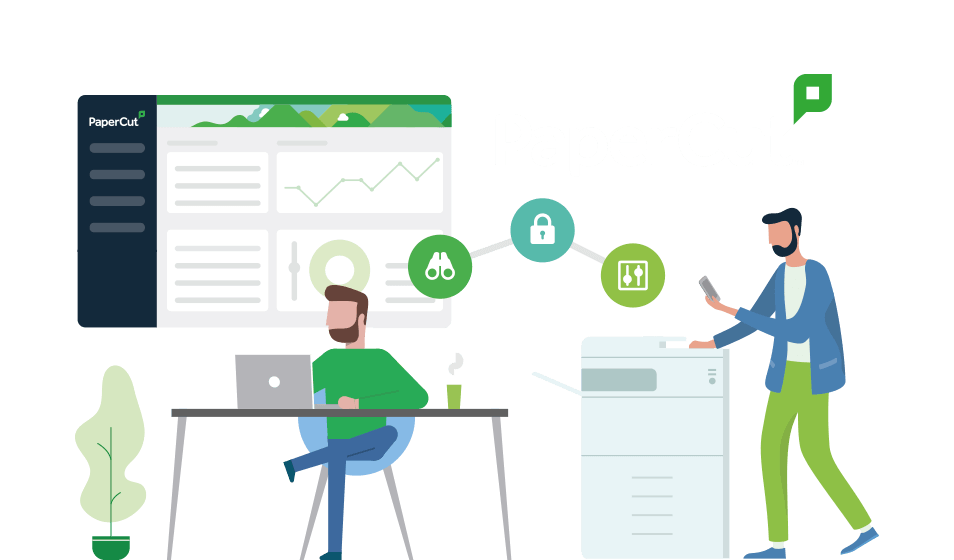 PaperCut offers the market´s finest and most user-friendly software system for management of user prints. PrinterGuys offers to install this ultimate solution with PaperCut FollowMe print and card readers on all copiers. The benefits are plenty. Naturally, the solution complies 100% with the new Data Protection Regulation (GDPR).
Your imagination is the only limit to what you can control: E.g. if one group should only be able to print in B&W, if some people should always be able to print on both sides of the paper, if others shouldn´t be able to scan from the copier, if a specific department should be invoices for their consumption. You can have it any way you like.
We can install the system on your existing printers – you do NOT need to renew your printers to get all the benefits.
Universities, schools and colleges often need a Print Management system. Thus, students can pay for their consumption and teachers can record how much they print and to whom – on the same printer. We have also installed the system at office hotels where the individual companies don't need buy printers themselves, as the office hotel provides the printer and every user pays for their own consumption.
The benefits of using PaperCut:
You save printers – several people/departments can share the same printer
You save up to 30% of printouts by avoiding printing errors
The users can be invoiced according to their consumption
You meet the GDPR requirements
No more stacks of prints messing up the printer room
Save paper
PaperCut FollowMe solution at PrinterGuys:
One-off costs
Basic system setup
5,000 kr.
Setup per copier
500 kr./pcs.
New server for the FollowMe solution
0 kr.
BUser licenses
0 kr.
Monthly costs
License per printer/copier
250 kr.
Card reader per printer/copier, if needed
100 kr.
Rental of server incl. updates
400 kr.
The fine print: To use this Follow-Me printer system, our server must be installed on your network together with the printers. PrinterGuys installs everything technical for you, but you are responsible for creating and maintaining the users. Naturally, we offer instructions on how to do it. We do not provide support for 3rd party products and APIs.