EPSON C579:
Perfect for a small office or shop.
Your printouts are included in the subscription price*
No additional costs – including toner
Full-service agreement throughout Denmark
No minimum contract term – no notice period
It's cheaper than buying it yourself
Save 95% in power compared to a laser printer
Its CO2 footprint is less than 7 kg per year
*) Fairuse limit of 1,000 pages/month – if you print more it costs DKK 0.49 + VAT per page per month including up to 1,000 pages.
Only DKK 500
per month including free printouts
Order here
Go crazy in the detail
A multifunction device that can do everything that a workplace needs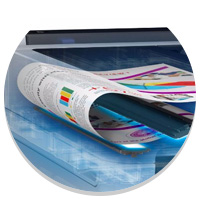 Automatic document feeder
It has room for 50 pages at a time, and it scans 45 pages per minute.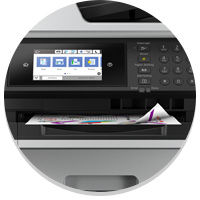 Fast printing!
The machine prints 34 pages a minute in both B/W and colour. It can automatically print on both sides of the paper. It has 1 tray with 300 pages as standard, and you can expand it by two extra each with 500 sheets.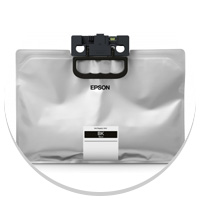 Efficient toner cartridges
Our printer has up to 50,000 pages per toner cartridge! This means you rarely have to change toner cartridges.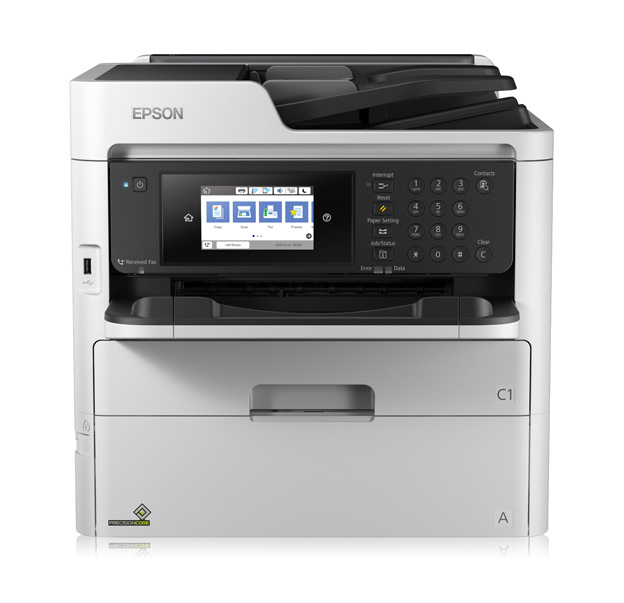 Here you have the printer of the future! With a reduction in power consumption of up to 95% of a laser printer and an annual CO2 emission of less than 7 kg. Furthermore, the first page is out of the machine in under 5 seconds, which makes it perfect for shops and hotels where the customer is waiting for the printout. Don't be fooled by its size – it's great to work with.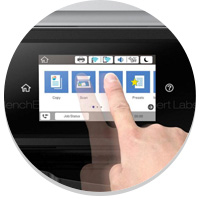 It can do almost anything
Although it's small, make no mistake: It prints, copies, scans to PC and e-mail, fax. However, you have to make the coffee yourself.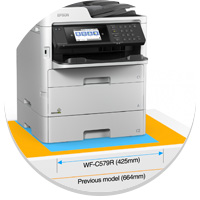 It doesn't take up much space!
The printer only measures 41 x 43 x 51 cm (H x W x D), which is very small for a professional A4 printer and scanner. Moreover, when it's not printing, it's completely silent.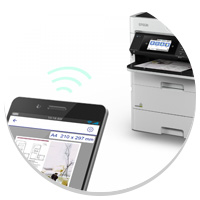 Wireless properties
The machine is wireless, and it also has a network cable. If you need to use Google Print and AirPrint, you've come to the right place.
No unforeseen costs.
No surprises.
Here is a complete overview:
| | |
| --- | --- |
| Number of pages included in your subscription | 1,000 pages/month |
| Setup fee for your new Printer Subscription | DKK 0 |
| The price is fixed for your Printer Subscription | Yes |
| Toner usage is included in the monthly subscription price | Yes |
| "Never run dry": Toner cartridges U/B are shipped with GLS/PostNord as needed | Included |
| Use of the PrinterGuys SMTP e-mail server to send e-mails from the machine (ensures that the e-mail feature always works even when your network changes). | Included |
| Support hotline weekdays 8 am to 4 pm | Included |
| Full-service agreement: We start troubleshooting within 16 working hours at the latest | Included |
| Any repairs to the machine with our nationwide service engineers | Included |
| Delivery, complete setup and training, as well as removing empty packaging | DKK 1,490/ DKK 0 |
| Collection after the rental period | DKK 990 / DKK 0 |
| Any prepaid rent is refunded upon cancellation | Yes, always! |
We offer the following optional extras:
| | |
| --- | --- |
| Extra drawer, price per piece | DKK 29/month |
| The machine has a built-in fax | Yes |
| WiFi module | DKK 0/month |
| Installing the copier on your computers | DKK 149 per device |
| Machine insurance including theft, fire and water damage | DKK 39/month |
| Use of the PrinterGuys SMTP e-mail server to send e-mails from the machine (ensures that the e-mail feature always works even when your network changes). | Included |
| Dismantling and scrapping an old printer or copier under 30 kg | DKK 149 per machine |
| Dismantling and scrapping an old printer or copier between 30 and 100 kg | DKK 599 per machine |
| Dismantling and scrapping an old printer or copier between 100 and 150 kg | DKK 1,499 per machine |